Diploma In Computer System










Programme name and code
Level 3: Computer System Operation – IT-020-3:2013
Level 4: Computer System Administration – IT-020-4:2013
Programme name and code
Objective of the course
Diploma In Computer Systems Administration course is designed to train and educate trainees on hardware and software aspects of computer systems. We prepare them to be absorbed into various IT roles in the administration, operations, technical and management levels in the private and government sector as soon as they complete their studies. Objective of this course is to provide complete exposure and guidance about the IT field. Our teaching concept is also focused on creating skilled IT graduates that fulfils the needs of the industry.
Academic Pathway
Subjects
Duration of Study
Career Opportunities
Job Scope
For Whom?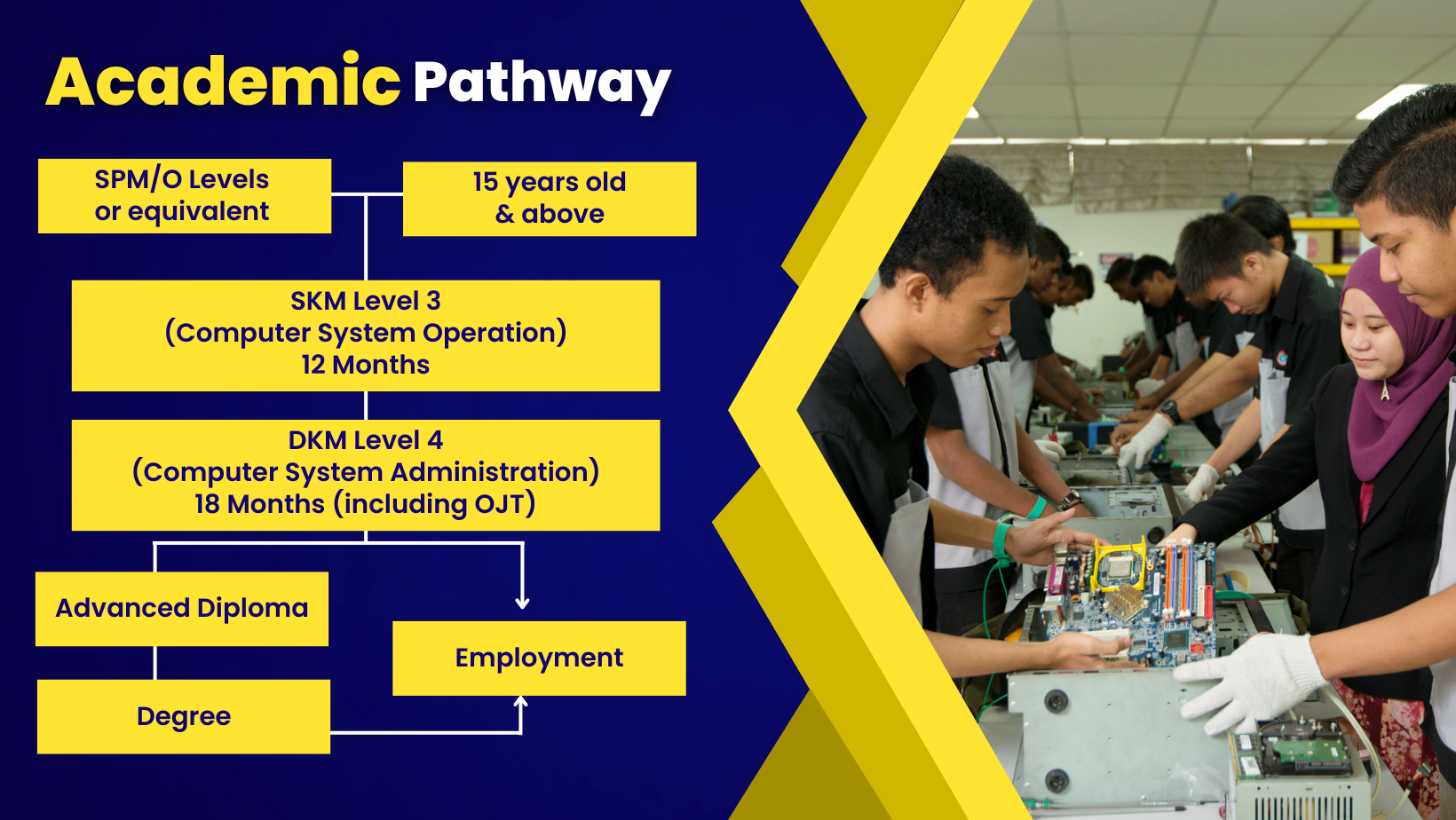 Level 3
Computer system set-up
Computer system maintenance
Computer system repair
Server installation
Server maintenance
Computer network connectivity set up
Mobile device configuration
Level 4
Server configuration
Computer network installation management
Computer system security control
Computer system maintenance management
Computer system & network procurement
Network cabling management
Value Added Subjects
English
Speed Typing
Presentation Skills
Interview Skills
Cabling
Communication
Server maintenance executive
IT support
IT technician
IT entrepreneur
Lecturer
Install, maintain and repair IT systems and equipment
Work as a member of an IT support team in an organisation or for an IT servicing company
Work as a field technician for a computer manufacturer
Run your own PC repair and maintenance business
Who should choose this course?
Interest in technology and computer
Interested to learn about computer repair and maintenance
Interested to learn about server repair and maintenance
Interested to learn more about computer systems, hardware and software
Passionate about internet